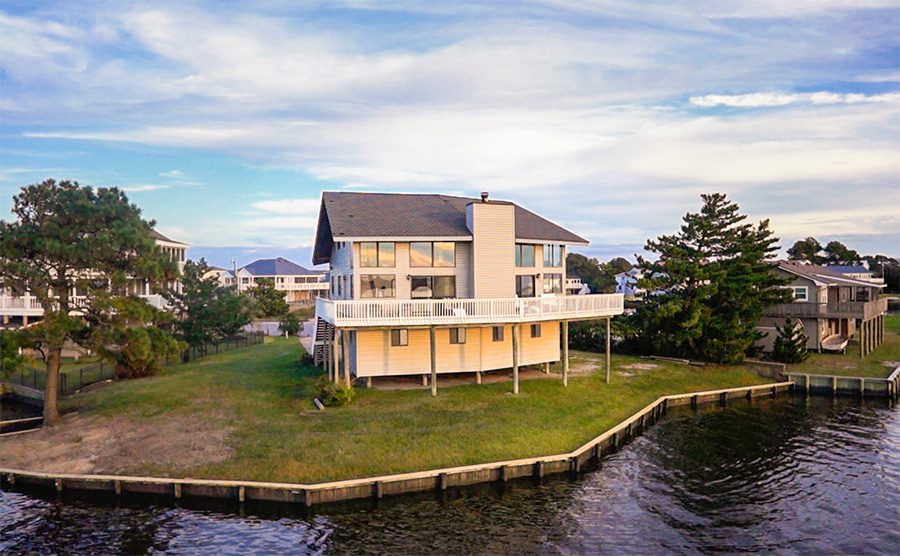 3049 Sand Bend Road
Purchasing real estate at Sandbridge Beach is not merely about buying residences; when you purchase at this hidden gem of a community you are choosing a unique and exciting lifestyle.  This 5 mile stretch of land encompassed by the Atlantic Ocean, Back Bay National Wildlife Refuge and False Cape State Park is out of the way, but not out of the loop.  It is thoughtfully nestled in seclusion and tranquility.  Such an environment allows one to cultivate a healthy, happy and treasured life in which the scenic views are seemingly endless and the sun sets dramatically over the bay in hues of orange, pink, red, blue and shimmering yellows throughout the year.
Life at "There and Back Again" is the American Dream brought to fruition.  Sandbridge Beach operates at a relaxed pace.  That theme resonates for those who choose "There & Back Again" as their new retreat.  The simple pleasures are the focus here; stunning sunset and bay views, witnessing wildlife taking refuge in their natural habitat, and most importantly the solace and peace exuding from this sensational corner of the universe.
Welcoming tones on the interior of this residence echo the cheerful ambiance, reflecting natural light that pours indoors from sizable picture windows and radiates off of soaring ceilings.  Tasteful splashes of color throughout the main living areas enhance the timeless appeal of the residence.
Imagine the memories to be made here at "There & Back Again."  Your loved ones are lounging comfortably in the great room while the fireplace roars on a brisk fall evening.  Everyone is captivated by the sun as it settles gracefully into the Bay after a long day and waterfowl chatter while they gleefully dance in flight across the sky.  The great room and dining areas encourage lingering on leisurely days.  An expansive deck embraces the back of the property, providing optimal nature observing and a place where you can dream into the sunset.
A sleek, modern kitchen provides all the amenities necessary for whipping up a delicious feast for friends and family.  Stainless appliances, black tile counters, gleaming wood laminate flooring and crisp, white cabinets adorns this well-appointed kitchen where culinary efforts are cooked to perfection.  Equipped with 4 bedrooms and 2.5 baths, "There & Back Again" is built with comfort and convenience in mind.
Revel in the absolutely unique, rare opportunity you have found in "There & Back Again" for a life like no other.  Functionality, a lasting appeal and an environment that is a natural positive mood enhancer is all yours for the taking.  "There & Back Again" is ready for your arrival.
Specifications:
Year Built:  1979

3,137 Sq. Ft.

4 Bedrooms
2 Full Baths & 1 Half Bath

Bay Views

Cul-De-Sac
Cathedral Ceilings
Large Picture Windows
Fireplace
Stainless Kitchen Appliances
Tile Counters
Wood Laminate Flooring
Generously Sized Back Deck
Offered at $674,900