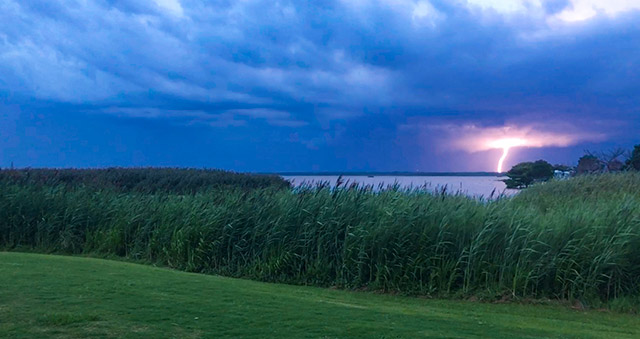 Summer is moving right along!
Summer is ending with some classic late afternoon thunderstorms. My good friend, Jay, took this photo (above) from the Baja Restaurant the other night. I think everyone is looking forward to a new weather pattern coming in with northeast winds and lower humidity. The City is moving along with its construction projects, the temporary Hell's Point Creek bridge will be ready soon and they have started building the new pump house for our sewer system at the south end of the beach.
On the real estate side, August has proved to be a very active month. I believe with the additional listings that came on the market in July and August it gave buyers more options, which resulted in stronger sales.
Activity for past 30 days is as follows:
Single Family Homes – 7 Sold and 5 Pending
Condos – 1 Sold and 1 Pending
Market Metrics – January 2019 – August 2019 YTD
As we approach the end of the summer, that means that the 40th Annual Sandbridge Pig Pickin is right around the corner. Come join us on September 7th at Little Island Park! Tickets are available here at our office. Feel free to call and reserve for pickup on the day of the event.
Enjoy the rest of Summer 2019!
Aloha!
Pat