What a rainy month it's been!
It's finally starting to dry out in Sandbridge due to some record-breaking rains for the past 10 days. The combination of rain and south winds pushing water from Back Bay caused Sandbridge Rd. to close for several days. Fortunately, Dam Neck opened its gates to locals and visitors so that everyone could get in and out safely.
This newsletter dives into the current real estate stats and year-to-date comparison to last year. The dominant category that reflects the current market is the large increase in residential or single family homes sales and volume. The biggest factor in the increase in dollar volume, up 43% from last year, is the sale of 3 homes on the oceanfront that closed at over $2.5 million. The previous year, there were no sales in that price range. The condo market as a percentage looks soft but on a units sold and volume it is not off by much with most of the units sold this year being in the lower range.
Sandbridge Beach Sales Stats
2017 1st 7 Months compared to 2018 1st 7 Months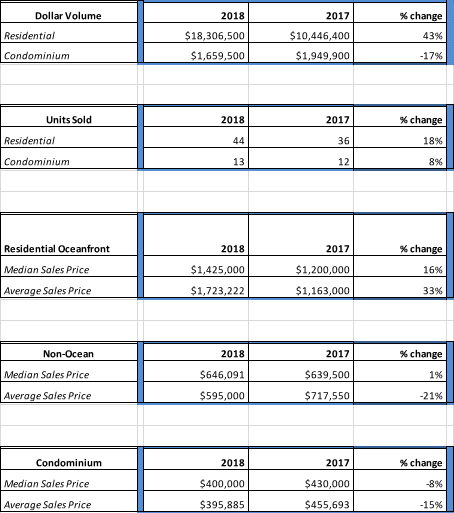 For the month of July we had the following activity:
Single Family Homes – 5 Pending and 8 Sold
Condos – 1 Pending and 1 Sold
Sandbridge Market Metrics – January-July (year to date)
As we approach the end of summer, it means that The 39th Annual Sandbridge Pig Pickin' is right around the corner on September 8th! We have tickets here at the office and I'd be happy to reserve tickets for those of you that are out of town so just give me a call or e-mail.
Enjoy the rest of the summer!
Aloha,
Pat