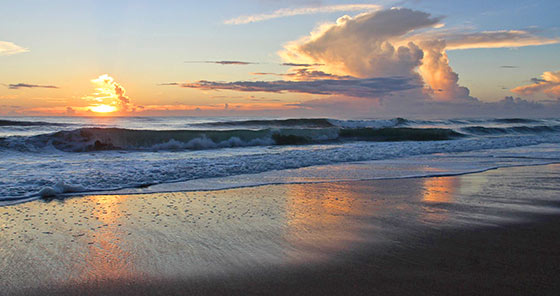 Sandbridge narrowly avoids Hurricane Florence.
As I write this on Friday, September 14th, Sandbridge Beach is a ghost town.
Thankfully, Hurricane Florence moved south before hitting the coast in Wilmington, NC. We had very little rain, wind or storm surge. We are very fortunate! Prayers go out to all of those south of us that were hit by the hurricane. It was good to see that most of the guests, and a large percentage of the locals took the mandatory evacuation seriously and left town. Things could have easily gone the other way. For those of us that live here, it's a reminder of how quickly life on this island can change and to truly appreciate what's important… family, friends and community!
On the real estate front, we continue to enjoy a healthy level of sales as we move into our fall market. Inventory in single family homes is at 33 units with condos at 35 units. For single family homes, this is historically low but I believe this will rise within the next 30 days. Our office is working on several new homes that we will be bringing to market very soon. You can always check single family homes for sale or condos for sale on our website.
For the month of August we had the following activity:
Single Family Homes – 4 Pending and 4 Sold
Condos – 2 Pending and 4 Sold
Let's hope that we are done with the storms for this season, as I contemplate whether to unpack and put everything back out or wait just a few more weeks. I have a feeling the first sunny day will inspire full deployment of chairs, grills, boats and paddle boards.
Again, to all those affected by Hurricane Florence, we pray for a quick recovery and will help in any way possible.
Aloha,
Pat