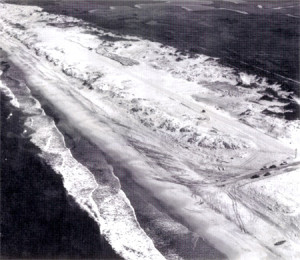 Sandbridge, a strip of land approximately fifteen miles in length between Back Bay and the Atlantic Ocean, has been home to farmers, surfmen, fishermen, hunters, vacationers, and permanent residents for over one hundred years. Deeds dating to 1850 reveal that the original name of this beach was Sand Ridge.
In the late 1800's, the U.S. Congress authorized the U.S. Lifesaving Service to construct stations along the coast to assist ships in distress. Dam Neck Mills and Little Island Station protected Sandbridge. Six surfmen and a keeper manned each station. They and their families lived nearby. These stations continued, as a part of the U.S. Coast Guard, in to the nineteen thirties.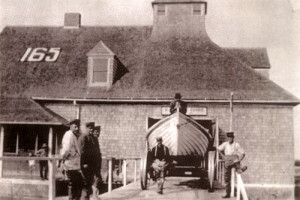 During the late eighteen and early nineteen hundreds numerous duck hunting clubs were located on Back Bay and its environs, a part of the Atlantic Flyway. Sandbridge Beach was formerly the property of the Sandbridge Gunning Club. That club was active in to the 1950s. Sandbridge developer James Kabler named several streets for the club's duck blinds, e.g. Porter's Island and Molly Cooper.
In 1952, Harvey Lindsay, a Norfolk real estate businessman bought a portion of the five mile oceanfront to develop a second home community. Lots were platted in an offset pattern for unobstructed oceanfront and semi-oceanfront views. James Kabler constructed the first house in 1953.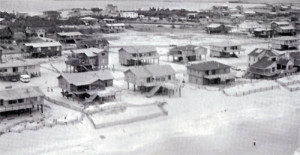 The community that had continued to grow throughout the 1950s was devastated by a storm on March 7, 1962, the Ash Wednesday Storm, that brought tides up to 8.9 feet. The storm whipped the sea, splintered houses, and washed away dunes. The owners cleaned up the residue and rebuilt Sandbridge. Subsequently, houses had to be constructed upon pilings.
The decade following the Ash Wednesday storm was one of rapid growth. Sandbridge was extended to within a mile of Back Bay Wildlife Refuge. Plans for further expansion were curtailed with the passage of the Federal Wet Lands Act. However, houses continued to sprout along Sandpiper and Sandfiddler Roads.
By the late 1970s and early 1980s Sandbridge was expanding into a year-round community. Today Sandbridge is complete with a new firehouse, rescue squad, condominiums, luxury homes, churches, general store, fishing pier, restaurants and as much wildlife as ever! Plus, with sand replenishment in 2007, the community will continue to evolve for many years to come.