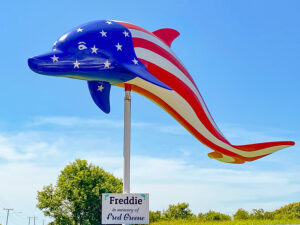 We had a great response with close to 100 names submitted! The winning name was submitted by Larry Ebeling.
We decided on "Freddie" in honor of long time Sandbridge resident Fred Greene. He volunteered much of his time for the greater good of Sandbridge Beach and was one of the original board members of "A Dolphin's Promise", a fundraiser started by Cindy Graf to support cancer research. We are honored, with Fred's wife Wanda's permission, to introduce Freddie to the public.
Original post:
Pat Barton discusses the Annual 4th of July Boat Parade as well as a Dolphin's Promise naming contest with a $100 prize! Watch the video to find out more! The SBH Team would like to wish all of our Family and Friends a happy and safe 4th of July Weekend!