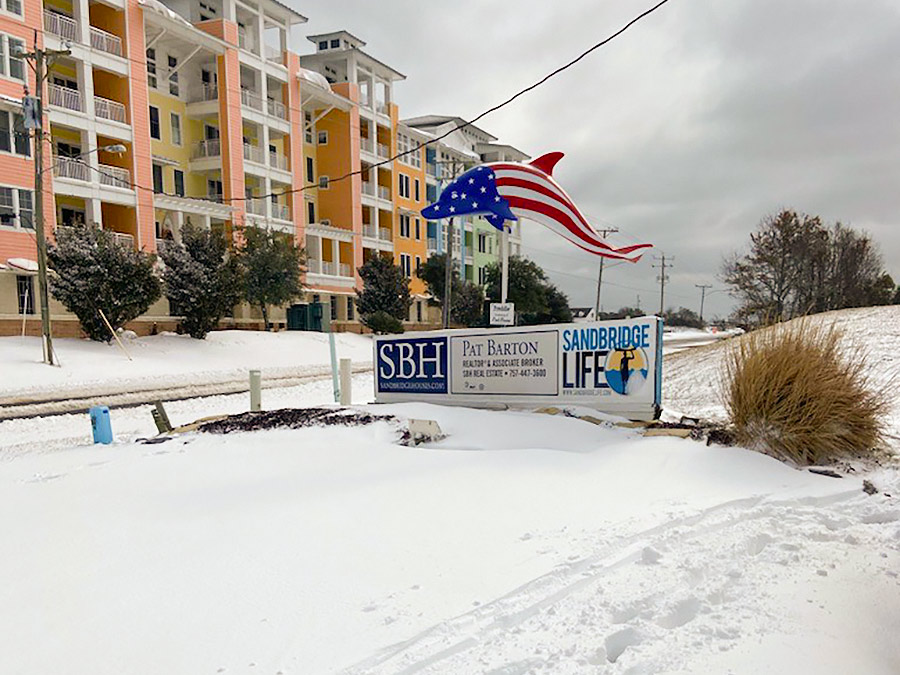 Sandbridge sees snowfall accumulation!
The new year started off with some interesting news regarding the property management companies in Sandbridge. It was announced on January 10th that Vacasa (VCSA), a publicly held company based out of Portland Oregon that specializes in managing vacation rental properties, purchased Sandbridge Realty and Beach Pros Realty. The company manages over 35,000 homes in the United States, Belize and Costa Rica. They also recently purchased two firms on Hatteras Island. Like most things there will probably be some good and bad that goes along with this change of ownership. I'll keep you posted.
Activity for past 30 days is as follows:
Single Family Homes – 3 Sold and 5 Pending
Condos – 1 Sold
Market Metrics – January 1, 2022 – January 20, 2022
Current rates courtesy of Liza Gibboney – Fairway Mortgage
NMLS# 243062 | Cell: 757-630-9604 | Office: 757-932-8497
VA 30 year fixed – 3.25
Conventional 30 Year Fixed – 3.625
Non-Conforming/Jumbo – 3.50
Non –Conforming 10% down with no PMI – 4.125
From Liza Gibboney:
It's true rates may not be at the all-time lows we have previously seen, but they are still low at a historical level. What factors contribute to rates increasing. Inflation plays a big factor. With higher and lower inflation rates typically will correlate with higher or lower interest rates. Another big announcement from the Federal Housing Finance Agency introduced new upfront fees on second-home loans sold to Fannie Mae and Freddie Mac.
Upfront fees for high balance loans will increase between 0.25% and 0.75%, tiered by loan-to-value ratio. For second home loans, the upfront fees will increase between 1.125% and 3.875%, also tiered by loan-to-value ratio. These rate increases are for second home on loan amounts of 647,200 and below which are considered conforming loan limits. Pricing adjustments for second homes in the Jumbo/Non-Conforming will not yet have the price increase.
The new pricing framework will take effect April 1, 2022.
Last month, I attended the town hall meeting that our local city council representative, Barbara Henley, holds monthly. She stated that the first phase of Nimmo Parkway Phase VII-B is out for bid and is scheduled to start in early spring. This is the stretch between Sandbridge/Sandpiper to McClannans curve, just across from Bandido's Taco Stand. See link for outline of the new road (vbgov.com).
That's it for now. See you on the beach!
Aloha,
Pat